Erin and Alex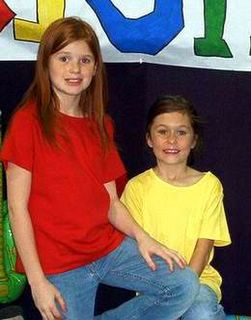 Since the time changed Sunday, Jason is now only 7 hours ahead of us. This is actually much better than 8 hours. I know what you must be thinking.. "what difference does ONE hour make?".. well it makes a BIG difference. Before the time change Jason would often call around 2:00 pm (our time at home) which would have been bed time for him (10:00 pm). Now that the time has changed he can call me a little later. See he told me yesterday that he would call me at 3:00 pm (which is still 10:00 pm for him) because he wanted to make sure he got to talk to the girls (see by that time they are already home from school). They were so glad to get to talk to him - to hear his voice - to share their day with him - to ask him questions. I have been relaying messages between him and the children but today they got to talk to each other and this meant so much to the kids and to Jason. Not only is Jason a wonderful husband, but he is such a wonderful father too.
I had two daughters from my previous marriage (Erin and Alex) when I married Jason, he too had a daughter (Macie) from his previous marriage and together we have a son (Hayden). We are a family united in love, we are a real family and nothing will ever change that. Jason has treated my daughters as if they were his own flesh and blood. People have said before "oh you have his, hers and ours" and I remember him once saying "no, they are ALL ours".
His is such a loving and caring father. When we get off the phone and we say our "I love yous" and "goodbyes" he always says "Tell the kids I love them and miss them". I always tell them what Jason said and it makes them so happy to hear that he is thinking of them too.
Jason, We love you baby...
we all love you and miss you so very much!!!