Catch up
Hey all, sorry I havent posted...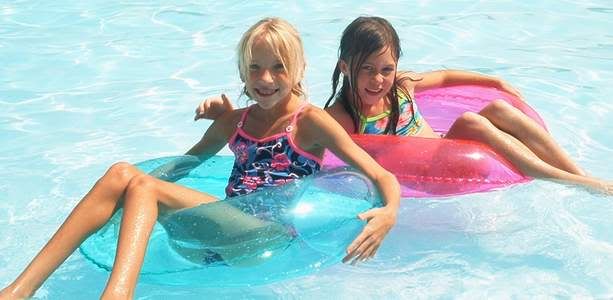 We had a great time at Spring Valley Beach Saturday. The weather was gorgeous and we all had a really good time. It was good to see Macie (my step-daughter -blonde in pic above- whose mother has not allowed her to come stay with me since Jason has been deployed. However, Jason's mom tries to get her every other weekend and so we do get to see her some).
While at Spring Valley Beach, Erin helped save and find a lost little girl (who was about 2-years-old) who had gotten away from her mother, gone from the kiddie pool area to the bigger pool and had ran up the steps in front of all the big kids and slide down the slide into deep water where the little girl could not touch/swim (and she didnt have on any floaties either). Most people dont think anything about seeing little ones go down the big slide because a lot of times the parents are waiting at the end of the big slide to get them.... but this little girl had no one. Erin was the next one on the slide and slide down. She saw the little girl under the water and picked her up (I dont know what the life guard who sits right by the slides didnt see the litte girl under the water). Erin got her out of the water and the little girl was coughing (from the water) and Erin calmed her down and asked her where her mommy was. The little girl pointed way over to the Kiddie pool. Erin was walking her over there when the little girl saw her mom and told Erin that was her mommy. I saw when they walked over and that mom was sooo glad to see her daughter. I was proud of my daughter for helping this little girl too.


Sunday was church. We again went to the Interdenominational church that we have attended the past 5 years. It was an awesome service. There will be a special service this Wednesday night and I am really looking forward to it and going back again next Sunday as well. Erin was excited because their class is putting on a drama that will be filmed and shown to the congregation. Alex has decided she doesnt want to do the drama (and that is fine, I would never make her). However both girls seem exicted about starting back on Wednesday nights and getting involved with the different ministries the church has to offer. I am excited as well and hopefully soon I will be back in the choir.


Monday started out as a busy work day, but with the weather starting to get bad I didnt seem to get much done. The girls got out of school and then weather just got worse and worse! As the winds from Hurricane Katrina were heading our way the trees began "dancing" as Hayden was calling it. Before long the wind really picked up and the next thing we knew my storm door on the front porch blew off (was only held on by the chain that connects the door to the upper frame). It even pulled the wood framing and nails off with it. Luckily it didnt break the glass. My neighbors saw me standing their trying to figure out what to do with this door and he came over and carried my door into my garage for me. I had already put several things from my back yard into our garage. The A-framed den in the back has about 12 floor to ceiling windows and I didnt want anything blowing into them. The only thing I could not get in the garage (as Jason's truck is in there) are the two glass tables on the deck (one round, one large oval). My neighbor and I laid the tables down flat as I was afraid they would blow over and break. Well that didnt help.. a large limb from the tree out back crashed down during the night and broke the larger table into thousands of pieces. The back yard was covered in limbs ... oh and the cover to our new travel trailer (that we financed two weeks before we found out Jason was being deployed) blew half off too. I will have to get a ladder and put the cover back on there (of course I will need the girls out there with me - just to be safe). I will have to get my front storm door put back on.. and the wood framing nailed back up. I might see if Jason's cousin (Jr) will come over and do that for me. I am thankful that this was the only damage we had. So many people suffered great tragedy and loss because of this storm.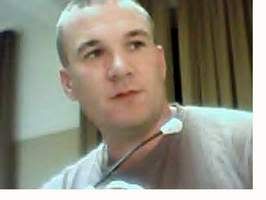 I have been talking to Jason via phone every day as well. I miss chatting with him on the web cam. His knee is really hurting him (He has a torn meniscus). Hopefully he can get to the doctor soon. He seems to be adjusting to the move to the other base. However, they may be moving again in the next month. After that he should be there until his depolyment ends May 31, 2006!! That day just can't get here soon enough!!

We just got power back a little while ago so I am going to sit down and try to get some of this transcription done (as I haven't gotten much work done the past two days).