Face to Face
I
communicate with my husband ocassionally through emails, sometimes on the phone, but mainly we talk via our web cams. I see his face in this little box and hear his voice through my speakers (and vise versa). Sometimes we get bad connections and the camera locks up and we have to log out and back in. I wear a headset to hear him because if I dont he gets feed back in his speakers of his voice out of my speakers through the microphone (if that made any sense to you - but it sounds horrible so one of us must wear a headset and it is usually me 99% of the time - which is ok). Sometimes there is a small delay (but usually not too bad) and we can't have too much background noise either (which could mean a TV, radio - or people talking in the background) because if one of us does then sometimes you see a mouth move and NO sound. It's complicated, it's aggrivating, but it's the only option we have and I am so grateful that we have it!!!!! Oh we can also play games (tic tac toe, checkers, scrabble, pool, etc) and we can draw/doodle together too. We are doing everything we can to have fun and enjoy the time we get to spend together.

Here are a few screenshots to give you an idea of what I see when I talk to my Sweetie!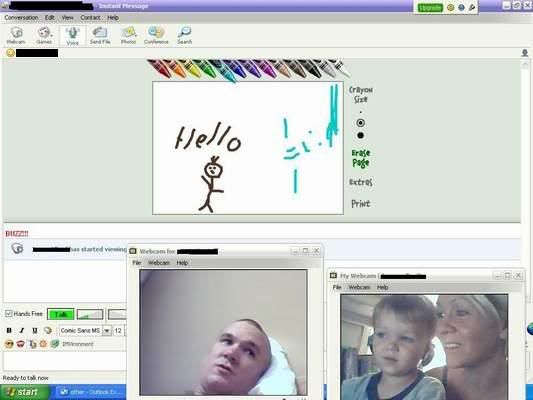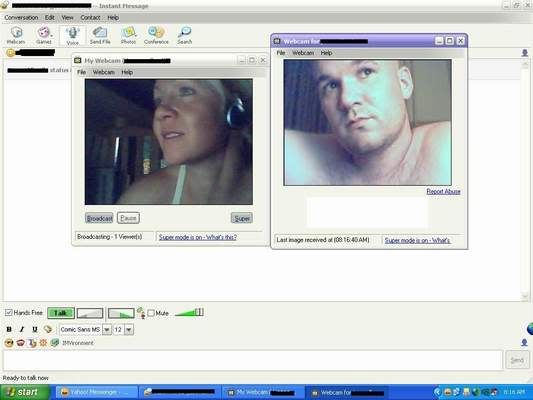 Yes, this is the only time I see my husband's face, that I see his smile, this is it. I miss him so much and can't wait until the day that I can look at him face to face in person!