Hayden's First Day at 3K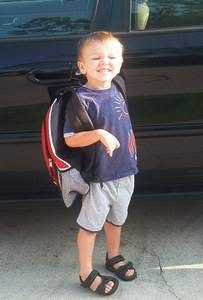 Hayden will be attending 3K on Tuesday and Thursdays from 8:00 am - 11:00 am. He will go to daycare on Wednesdays for the same hours (a different teacher on Wednesdays).

Today was his FIRST day! He was soooo excited this morning. As the girls were up and getting ready for school I explained to him that he was going to go to school too. After getting ready he put on his backpack and anxiously sat in the living room waiting for everyone else to be ready. He was so cute!


After dropping the girls off at school Hayden and I went to the church that holds the daycare/kindergarten that he attends. He just grinned from ear to ear as he got out of the car and put on his backpack. We walked hand in hand in the school and when we got to his room he patiently waited behind a little girl so that he could say hello to his teacher and hang up his back pack. He sat in a chair beside the back packs and let me snap his picture. Then he wondered over to the other children and didnt hesitate about telling me goodbye. He was sooo ready for 3K!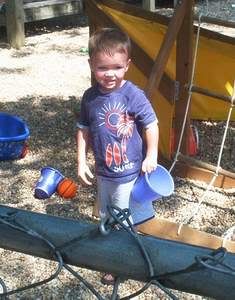 At 11:00 I went back to the school to pick him up. On the 3K days (Tues and Thurs) I will pick him up at the playground. He was having a good time playing with the other children, but seemed happy to see me as well. He told his teacher goodbye and waved and said "Bye friends".

When we got in the car I asked him about his day and if he had fun. He said "yes maam". Then he said "I was bad". I thought "oh no!". Then he told me he had to stand in the corner. I knew the rules "We use our hands to help, not to hurt". I said this to him and he just put his hands over his face. I said it again and then said "ok?". He said "Yes Maam". The reward and consequences reflect on a clothes pin with their name on it. If they break a rule the clothes pin gets moved down the red light. If they dont get their clothes pin moved down the red light they get a sticker for the day (once they collect so many stickers they get a prize from the treasure box). However if their clothes pin gets moved once - they get a verbal warning, twice - then a 1 minute time out, three times - then a 3 minute time out, four times a note to parent and a phone call if necessary. So there was not a note in his folder so I am hoping they only moved his clothes pin twice. I asked him if anyone else got in trouble and he said a girl and a boy did. Hopefully he will adjust to following the rules of his teacher soon. This will be really good for him.

When we got home we opened his back pack and saw the color sheet he colored me today. I told him how he had done a great job and how I loved the colors that he used. I told him "Thank you". He gave me the biggest smile and hug and said "You're Welcome".

Tomorrow he goes back, but it will just be daycare for three hours. Thursday he goes back for 3K. I am really excited about this opportunity for Hayden.