A party, church, and a chat with my hubby!
What a weekend!!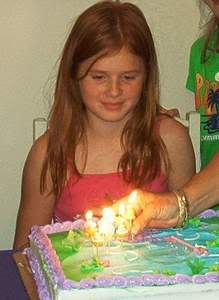 Saturday I got up really early and started getting everything ready for Erin's Birthday party (which was a success). I had a total of 12 kids at our home and they had a blast. Erin got a lot of presents ... and mostly money (of course we had to go shopping and spent much of our weekend doing so).
Sunday was church, and was truly a blessed Sunday! As many of you who frequent my blog will know that WHERE we are going to church is an issue for me. We had attended a church (Southern Baptist) when the girls were young, then left and had attended another church (Inter-Denomination - in the city adjacent to us) for the past five years. A couple of months ago we started visiting other churches and ended up back at the church we had attended years ago. However while my girls were in Indiana visiting their dad, I started back at the Inter-Denominational church. I was really torn between the two because there are things about both of them that I like. I have prayed and prayed over this. Now the girls are home and this Sunday we had to decide WHICH church to go to. One of the reasons we went back to the Southern Baptist church in the city we live in was based on my oldest daughter Erin.

Erin started middle school this year (BIG change for her). She has ADHD and struggles in school and with low self-esteem at times. However she is a very bright, talented and beautiful young lady. I am very proud of her. She is at that age that the friends she makes now will affect her throughout the remainder of her school years. I want her involved with a good group of kids and want her to have high self-esteem. THAT is one reason we went to the Southern Baptist church in our town this past weekend. She wants to go to church with kids she goes to school with. There were some kids at the Inter-Denominational church we had attended who had previously been hateful to Erin. Although they are no longer hateful, they (or others who are friends with them) do not talk or play with her (and this affected her self-esteem and honestly openess at church to be willing to receive the Holy Spirit and learn God's Word). She is only 11 and again this is a very critical age. However, I must say she really enjoyed church Sunday and got so much from Sunday School and Children's Church. They have a lot to offer me and the kids. I know the Lord will not lead me down the wrong path and will use us for His Glory in the place of worship He wants us to be.
Jason and I had a really great weekend talking on the web cam. He moves to the other base on the 21st. Please continue to pray for him. His knee is hurting really bad. Also his ears are ringing and his neck is hurting. He will follow-up with a doctor when he gets moved. I am really worried about him! Of course with me in Alabama and him in Germany there is only so much I can do!

I hope you all have a wonderful and blessed day!