A visit to the ER
I cut my finger (knuckle) last night and had to go to the ER and get two stitches and a tetanus shot.

It happened about 9:30ish. The girls were due home about 10:15 pm so I called my mom and she came and watched Hayden and was here when the girls got home while I went to the ER. It was about 11:15 pm when I got back home.

It really hurts this morning and I can't bend it.

I cut in on the side of a drawer. I was cleaning/rearranging last night before the girls got home and was putting some things in Erin's dresser ... I had all the drawers open left and right side.. I was putting something in the drawers on the right side and moved my left hand and my knuckle slide across the rail thing that holds the drawer in (on the left side) (it cut me just like a razor blade would). It was pretty deep. I didnt panic though. I just put pressure on it and ran to the kitchen. Surprisingly it didnt bleed as much as I would have thought it would, but I could see pretty deep. I cleaned it out with an anesthetic wipe from Jason's first responder medic bag, and called my mother.

The ER gave me a tetanus shot, sewed me up, and also gave me a prescription for some antibiotics. He said the stitches will need to come out in 10 days. He said to take the antibiotics and make sure to watch for signs of infection.

It hurts pretty bad...(I am about to go take some Advil).

I am typing really slow (since it hurts and I can't bend my finger). I guess I don't need to be too worried about not being able to bend it right now since it just happened last night. I am going to call the doctor in a bit and see if they can see me in 10 days to remove the stitches.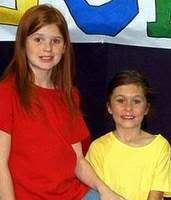 As far as my girls!!! I hate that I was not here when they got home. My mom said they were really exicted about their rooms (I know I still need to take and post pics). When I got home from the ER they just hugged me and hugged me. It was soooooo good to see them. 5 Weeks was a long time to be gone (visiting their dad in Indiana) and I am so glad to have them home. Hayden is glad to have his sisters back too. And the kitty "Cuddles" is adorable (I will have to take and post a pic of her soon too).



Well my finger is hurting and I still need to try to get a little bit of my work done (without pushing it too hard - ya know!). Have a great day everyone!!

(P.S. still praying that things go better for me and Jason today!!!!)