Hayden had a GREAT day!!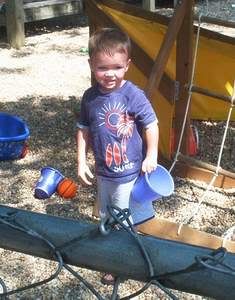 I heard back from the church I had contacted for counseling.. Apparently the lady I emailed has moved and so they were going to forward my email to the lady who took her place. The one who emailed me to let me know they were forwarding the email said they did have someone who specialized in counseling young children. She said that she knows we must be having a difficult time and that she prayed that they would be an encouragement for me and Hayden. Hopefully I will hear from the other lady soon.
I go to pick up Hayden (of course I get nervous when I pull up because I am thinking.. please let this be a good day) and the teacher didn't tell me he had done anything wrong!! Hayden is loving and friendly and tells his friends and teacher bye. As we are walking away Hayden tells me (in an excited voice) "I was good today mommy" "and I got M&Ms" (which is a treat for being good). I was so happy for him and I praised him and praised him. He just smiled so big and kept saying "thank you mommy".
My mother-in-law brought Hayden a surprise for having a good day at school. We encouraged Hayden to continue being a good boy and he said he would!!
I talked to my Sweetie today.. I love him SOOOO much. He has seemed really down lately, not talking much. I wish there was something I could do! I wish he was home!!!