Hayden and the Dentist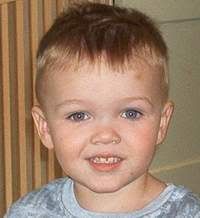 After recently having his teeth cleaned, Hayden was discovered to have a couple of cavities. This is my fault of course (he is only 3) as I have allowed him to go to bed every night with a sippy cup of ice cold sweet tea (decaf of course). This sugar sitting in his mouth is not good at all! We attempted to have these cavities filled at our family dentist, and although Hayden did good at his cleanings, he did not want to open his mouth good for the dentist that day. He was not bad at all, but just didn't want to cooperate. They had even given him something to "make him a little sleepy" (it was a thick substance he had to take an hour before his appointment on an empty stomach) but it didn't make him sleepy at all. So the dentist said she believed he would do better if he was seen by a "Pediatric Dentist". We scheduled that appointment and Hayden was seen today. The dentist was super nice as were all the assistants in his practice. There are 3 small cavities that need to be taken care of. Because Hayden would not cooperate before, this dentist said they will need to do "oral sedation". "Oral sedation is recognized by the American Academy of Pediatric Dentistry as a form of treatment for young children whose apprehension or fear prohibits them from being cooperative dental patients". However, insurance does not cover this and it will be an extra $150. When they sedate a patient, more time is spent during the dental procedure. His heart rate and oxygen saturation will be monitored during the procedure. Thus the extra charge to cover the cost of monitoring equipment, et. Also insurance pays for "silver fillings" and they only do "white".. so we have to pick up the extra cost of that as well. All in all the fee is about $510 (with us paying$352). It is scheduled for Nov 15th.

After the dentist this morning, Hayden and I ran by the thrift store (I love the thrift store, picked him out a toy, and a shirt to go with his "cowboy" costume). Then it was on the the grocery store...where among the groceries we bought we had to get "marshmallows". Hayden insisted on that one. Then it was home to get some work done, pick up the girls from school, back home to call my sister Courtney and sing to her for her 18th Bday, cook a big pot of chill (mmm mmm mmm good - on this nice cool fall day), help the girls with homework (and there is still more that I need to help them with, and here I am. I haven't gotten much typing (Medical Transcription)done today, so I will probably be up late tonight typing (but I am thinking about just getting up EARLY in the morning and instead just having some quiet time with God tonight and reading my Bible - As I need to get back into the habit of reading His word daily!!!).
Speaking of which, I sat in with the teacher for the girls 8-12 year old Sunday Morning Bible Study class this past Sunday. I am going to start teaching that class one (maybe two) Sundays a month (starting this coming Sunday the 30th). I am really excited about this opportunity that the Lord is going to use me.

Oh... Like I said above it's my little sister's 18th Birthday!
~ H.A.P.P.Y ~
~ B.I.R.T.H.D.A.Y~
~ C.O.U.R.T.N.E.Y ~
We love you !!!!!