Memories...Precious memories.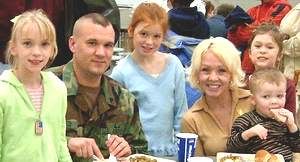 I sit here and think of all the feelings that I have felt since Jason first left on January 31, 2005. I think of all the things that he has missed, and all that we have missed about him. He has been gone 9 months, 2 weeks, and 4 days! It is hard living here without him, to go about my daily life without his presence in our home, to comfort children who cry and miss him. I am grateful that he is not in a combat area and I know things could be worse, but I miss my husband. He has missed so much, birthdays, holidays...but I am beyond words at the happiness I feel knowing he will be home to visit for Christmas.

Yes in just 1 month and 3 days my Sweetie will be home for 2 weeks. Saying goodbye again will be hard, but that is not what I want to even think about right now. His deployment should end the end of May and he should be home sometime in June 2006. That is over 6 1/2 more months, but we are already more than half way through this deployment...so to me the countDOWN has begun!
As you may have read, we have our web cams back up and that has really made things a little easier for us. As I talk to him via web cam and look at his face, I just want to reach out and hold him, but he is so far away. I blow him kisses when we get off the web cam and we always tell each other how much we love and miss each other. To think in a month I can finally hold him and kiss him...and tell him face to face how much I love him....I will NOT want to let go of him the whole time he is here!

Christmas is our favorite holiday and to know we will get to spend it together again brings feelings that I just can't put into words. Jason is such a FAMILY man, a man that came into my life when I had two children from my first marriage, who loved me and loved and accepted my girls (Erin and Alex) as his own daughter (Macie). Together we had Hayden our son... now we are a family complete.

A little info on my Sweetie... He loves to hunt (deer) and always enjoyed hunting with his father (who passed away a week before Jason's deployment). Jason has had a hard time with the loss of his father. I don't believe he has been able to grieve his father the way he would had he been home. I fear that it will hit him hard when his deployment ends and he is back home. When hunting season rolls around and he doesn't have his father to hunt with..will be hard. Jason does love to hunt and has taken the girls on numerous occasions (We have some awesome video of him and the girls). Memories, precious memories. He has taken me hunting as well, and I killed my first deer a few years ago (it was very exciting). When the time comes he will be taking Hayden as well.

Jason, the kids and I love to go camping. We took a big step and financed a really nice travel trailer. It is a great investment. We did get to go camping twice before he was deployed. The memories we have made, and will continue to make are precious. Fishing, hiking, bike riding, and just sitting by the camp fire roasting marshmallows, it is just so much fun and I can't wait until we get to go again.

Jason, the kids and I also love to play games. Scrabble was our game of choice when he left. We also love to play Uno. Jason loves to sit and watch movies together too. He is such a family man.

I am honored to call Jason my husband, my very best friend, an awesome father to our children, and my soldier.

Jason... I (we) love and miss you so much!!!!! Life Back Home is just not the same without you here!