A fun filled day.....
It was really busy this morning at our house as all three kids had plans at school today. Erin (who is feeling better and able to go back to school) was going with her class to see The Chronicles of Narnia: The Lion, the Witch and the Wardrobe (She has read the book so I am anxious to see how she likes the movie). Alex was going with her class to see the Nutcracker. Hayden had a party at school (and all the 3K children were going to perform some Christmas songs as well).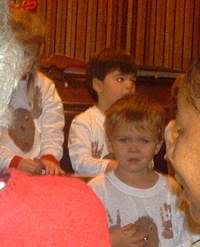 So the time comes for the 3K to perform their songs and we are waiting in the chapel for the children. The children line up all well-behaved and ready to perform, and as soon as several children laid eyes on their parents sitting out in the audience some begin to cry (of course mine being one of them). Us mothers who had crying kids made our way down and sat in the floor up front, with our children who came and sat in our laps. Some children were still up on stage crying, some were singing, some were singing parts of the songs they were not supposed to be singing yet, it was just adorable. They all did a great job, even if they cried through the singing.


Then it was back to their classroom for a CHRISTmas party. This is what they really enjoyed...cupcakes, cookies, and of course PRESENTS! Above is a picture of Hayden and Presley. Her mother (Amy) and I are friends. One of the other mothers told me about a play group that they have at their church for mothers who stay home and their children. She invited us to be a part of the group and I am really exicited about this. She said they meet once a month and she will send me the information for January!


Well it is ONE week until my Hubby is home for his 2 week R&R. This is going to be the BEST CHRISTmas ever!!!!! I couldn't ask for anything more!!